Welcome to Megumiyuki

Thank you for visiting our website.
Please use this as reference for your travel planning.   繁体字版
Biei town is the best place to stay that is located between Furano and Asahikawa.

There are many beautiful places and sightseeing spot. And it's very close to Asahikawa airport.
Our B&B which is small family-run have 5 Japanese-style rooms and a Cottage.
Maximum only 20 people stay.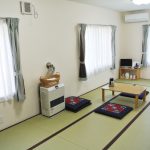 We very welcome you with warmest heart and hope you will have great stay with us.
We located very near by Biei town on the way to Shinei no Oka(Hill of Shinei) in Panorama rea. Just 4min drive to the Biei station.
Around the house is surrounded by a pasture and vegetable fields that can enjoy the idyllic and quiet landscape. And also we can see some beautiful starry sky.
We will provide a fresh and delicious food that Biei or Hokkaido products.
The rice and bread cultivated with a reduced amount of agricultural chemicals.
Photo tour around the hill of Biei by taxi
http://www.biei.org/biei-hire/yoyaku.html
Capacity: 1 to 4 people (one car)
Price: 6,340 yen for one hour(one car)
Start Time: Choose between 7 am to 10 am
Use time: 1 to 3 hours recommended.
Please make a reservation by 1 day before the tour day.

Capacity: 5 to 9 people (one car)
Price: 8,040 yen for one hour (one car)
Start Time: Choose between 7 am to 10 am
Use time: 1 to 3 hours recommended.
Big cars are limited. Please make a reservation as early as possible.

Pension Megumiyuki is a member of 1% for the planet.
Our planet can't wait .The evidence is overwhelming: climate change is an imminent threat, our food systems are increasingly stressed, and our lands, waters, and species are threatened like never before. If we don't act now, the viability of our planet and our quality of life – to say nothing of the health of our economy – face an existential threat.
Unfortunately, the global community is falling far short of meeting this challenge. Currently, only three percent of philanthropic giving in the U.S. goes to environmental causes; and only three percent of this giving comes from the business community. On top of that, government funding for the environment is variable even in the best of times. The global community has a responsibility and opportunity to step up for the planet and drive positive change.
It's not easy to know where and how to put your dollars to work. Most businesses and individuals don't have the expertise to develop their own environmental giving strategies, and few have the time or resources to sort through the dizzying array of options for how to make a difference. By joining 1% for the Planet, you leave that work to us. We save you time and money, and maximize the impact of your giving by connecting you to our trusted nonprofit partners.
We can do more all together than we can alone. The expertise and support we provide helps businesses, individuals, and nonprofits directly work together to deliver greater impact. Our brand and network creates opportunities for collaboration, learning, and inspired storytelling that makes environmental giving easier, smarter, and more accessible to all.