Breakfast
7:00am ~ 8:00am
Please enjoy our delicious breakfast. We will provide Biei Hokkaido food ingredients. It's very fresh, delicious and safe.
・Bread … Baked with Biei wheat brand "Yumechikara" which is very rich taste.
・Salad … Buffet style. This is all you can eat. Most of vegetables are from Biei or Hokkaido.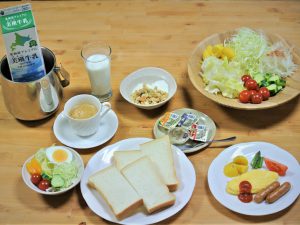 ・Ham, Sausage and Eggs.
・Hokkaido Milk, Coffee and teas.
・Fruit granola. (It's a cereals that mixed some dry fruits.)
*500yen for add breakfast for a child who is under 5 years old.
*When you add breakfast, please contact us 2 days before arrival. There is a thing to refuse even if you add by check-in.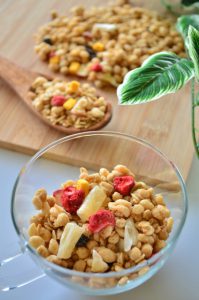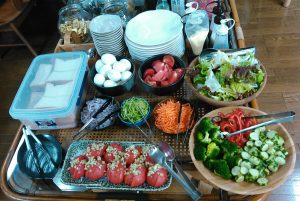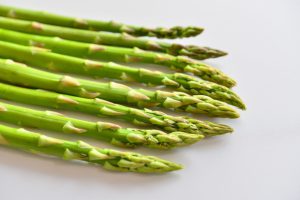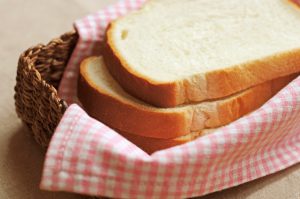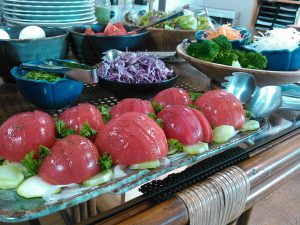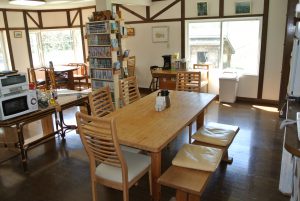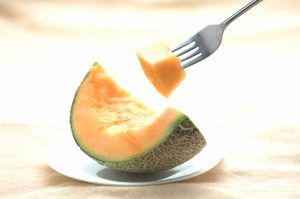 Dinner
Due to the lack of staff in 2019, we may refuse your order for dinner.
Thank you for understanding.
Eat at Megumiyuki. *Order dinner : 1,500yen  Roast Pork dinner set.
6:00pm ~ 6:30pm *Please do not arrive late.
Please make a booking for a dinner until 2 days before you check-in (Bookable for 3 people or more).
・Roast pork … Biei pork. It has feature of juicy meat and umami(taste) which Biei pork originally has.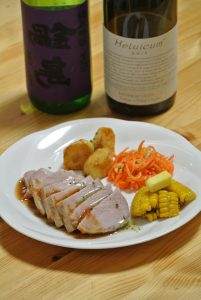 ・Salad … Products of Biei and Hokkaido vegetables. Simple cook that made use the taste of vegetables as much as possible.
・Rice … Biei rice.
・Soup … Japanese Miso soup.
・Dessert … Japanese rice-flour dumpling with Biei red beans.
*We may refuse dinner in Off season or small group. Please note.
**When dinner is added please contact us at least 3 days before arrival. It is not possible to add on the day.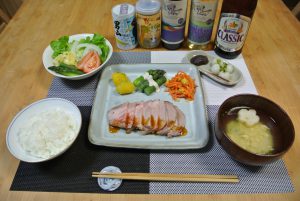 Eat at Megumiyuki. *By yourself.
No kitchen. Buy some food at supermarket.
Microwave and Hot water can be used.
Fruit cut for free that you bring.(~8:00pm)
Eat at Restaurant.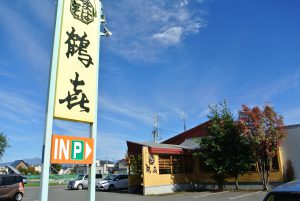 There are many restaurants in Biei town.
We will introduce you the local food and recommendation.
3-5 min drive to the town.